PoA Times Article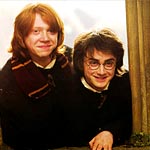 May 15, 2004
Uncategorized
The Times Online has an article on Prisoner of Azkaban:
Scene: a frozen lake in a Scottish forest. Beneath a grey, menacing sky, Harry Potter stands dirty and bloodstained, with a broken voice and a wonky wand. For the tenth time, he has to run down a mock hill in Shepperton Studios, point his wand, and shout, "Expecto Patronum!" at some mist, which one day will contain computer-generated Dementors, but for the moment contains nothing at all. Still, Daniel Radcliffe manages his intense Pottery stare yet again, despite the fact that the light on the end of his wand isn't working.
"Wasitawright?" he inquires. "Yes," says Alfonso Cuarón, the director of Harry Potter and the Prisoner of Azkaban. "Dan is never off his mark," he adds, generally. Then he looks at the shot on video replay. "No more new things. Forget the light on the wand," orders Cuarón in his Spanish-English. But the robot camera on a crane is casting a shadow on Radcliffe's face. They'll have to do the shot again, for the eleventh time. Radcliffe waits, drumming a complicated rhythm with his wand. Cuarón gives some final suggestions to Radcliffe: "Don't breathe. Don't lean. Don't nothing. Don't act."
Someone is sent to scatter bags labelled "Kosher salt" on the hillside to improve frostiness. A scenery man goes into the bushes to twitch them, spookily. Radcliffe skips happily up the hill, ready to run again. He grins at Hermione, Emma Watson, who is in the background talking in sign language to the crew. She yawns. Radcliffe spins his wand like a cheerleader. Across the fake lake, Gary Oldman, who plays Sirius Black, appears to be having a little picnic from a brown bag. Soon he lies down on the hill, apparently asleep.
Welcome to the third year at Hogwarts, where Harry Potter confronts an escaped prisoner and the soul-sucking Dementors who are sent to guard the school. And welcome to the slow torture of acting in a major motion picture with far too many special effects.
Thanks to Jenna at DanRadcliffe.com for the link!