New Dan Radcliffe Interview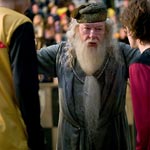 May 16, 2004
Uncategorized
Page, from Dan Radcliffe.co.uk had the opportunity to meet with Daniel Radcliffe and to present him with a special cookbook made with recipes from his fans. She also had the chance to interview Daniel, and while the entire interview is not yet posted, some excerpts are on the website. Two good quotes posted include one about the GOF script ("it's a masterpiece") and this about Harry and Book 7 :
Regarding how Dan might write the last Harry Potter book:
"Um, I don't know if I can, I think there's going to be something,
and I'd like to say before I answer, that this is completely unfounded. Jo Rowling has told me absolutely nothing I promise, but I think because of the link between Harry and Voldemort's wands, there's going to be something, whereby, Harry, I mean I don't want to cause a big out cry. But I've got really bad feelings that something not so good's going to happen to Harry. Because maybe like if he died thats the only way Voldemort could die as well and so they cancel each other out. I think that people are going to go mad when I've said that I'm sure. Or he would become a Quidditch player. It's a happier ending."
Click here to read more.