Tom Felton Interview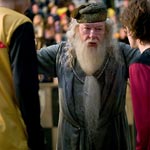 May 23, 2004
Uncategorized
CBBC.com has posted a new interview with Tom Felton(Draco Malfoy). Tom, who will be attending today's premiere of Prisoner of Azkaban , had this to say about the Hermione punch scene in the film:
What's your fave scene?
I quite like the scene where we're up in the hills and I was spying on Hagrid when they're about to slice the Hippogriff's head off and Hermione comes up and, err, teaches me a lesson.
Doesn't she slap you?
No she punches me! They changed it for the film. But she doesn't actually hit me in real life. Me and Emma worked on it for a while to make sure she didn't actually lamp me one. It was fun to film as long as she didn't actually hit me – which she didn't!
Thanks to everyone who sent this in!