Prisoner of Azkaban Premiere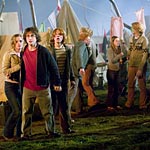 May 24, 2004
Uncategorized
I'm back and totally worn out; I've just started work on a red carpet transcript, and we'll post video highlights of that soon. We have plenty of pics of the fans and the scene to post, a lot of content from over the weekend coming in the week ahead, the junket interviews tomorrow, and lots of little surprises soon. So keep checking.
The film… in a word, wow. Wow, and thank you, Alfonso Cuaron. There will be details, oh yes there will be.
All in all a great event – the theater held 6,000 people, about four times what a usual premiere theater does – so lots of fans were able to go and enjoy what is without question the best Harry Potter film yet.
Update: Check out great red carpet photos at HPANA.