TLC's Red Carpet Transcript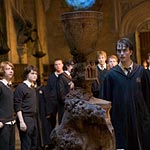 May 24, 2004
Uncategorized
Our transcript from the quickie interviews on today's (yesterday's?) red carpet has been uploaded. These things are very fast and very to the point, so I've cut out some of the waffling around and side comments – you'll see that in the eventual video.
The news that came out of it: Columbus is committed to Rent; it will be the next film he directs.
Quotage:
Chris Columbus
What are your ideas [for "Rent"]?
My ideas are to make it very real, very gritty but to preserve the – there was a chance that Rent was going to go to television and I found out about that. I've been a fan of it for about 7 years, and I wanted to make sure it wouldn't be homogenized, preserve Jonathan Larson's initial play in tact. So what you will see on screen will be that play come to life with all of New York City as its star. So we'll open it up a little bit, but I think in terms of atmosphere we'll try to find new people, people you've never seen before, put a cast together of stars who can act and sing.

Tom Felton
You seem to be getting just as much if not more attention than Dan.
It's crazy, it's because they like a bad boy I think. They like a bad guy, I don't know why. There needs to be a Slytherin girl out there.
Well, Pansy.
Yeah but I mean a Draco girl. Long blonde hair sort of thing, slicked back hair.