Alfonso Cuaron: Stars Can Complete All Seven Films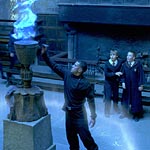 May 26, 2004
Uncategorized
While the New York Post reported that producer David Hayman spoke of the inevitablity of the young film stars eventually outgrowing their roles, CBBC Newsround reports that Prisoner of Azkaban director Alfonso Cuaron said "it would be amazing to have the whole series with the same kids".
"So far, they're holding up very good, the way that they are ageing. I don't think Dan is going to get way much taller or suddenly grow another eye. Same with Emma, and Rupert is OK," the director added.
We at TLC hope Cuaron's assessment proves correct, and implore the families of all the young Potter cast, for the sake of the fans who would like to see them continue the series through book seven, to seek immediate medical attention if any of them appear to start growing a third eye.
Thanks to Pete for the link!