TLC's Red Carpet Video & DR.com Pics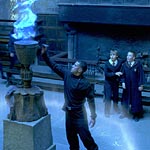 May 26, 2004
Uncategorized
Editor Megan has spliced together a wonderful montage of the interview highlights…with a few surprises we think you will all enjoy very much. It's uploaded in large and small – if you like having vids for downloading on TLC, please remember to right-click and "save file as" – so that if you want to see the video again, it's on your hard drive and not the streamload server. Warning: The video starts loud. Very loud. Screaming fans loud.
If you can't hear the red carpet interviews (over the screaming – you all are loud!), try reading the transcript first.
New York Prisoner of Azkaban Premiere – 7MB, Windows Media Player
New York Prisoner of Azkaban Premiere – 22MB, Windows Media Player

Again, these videos are brought to you by Streamload, for whom I am more than happy to do a commercial. For people like us, who are mostly not very tech-savvy, this service as thus far been absolutely wonderful and easy to deal with – especially with our tremendous large-file hosting needs. Use them, and we can continue to do the same.
Enjoy the vid!
Also: DanRadcliffe.com has some wonderful premiere pics.