Tom Felton in The Sun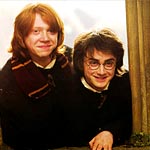 May 26, 2004
Uncategorized
The Sun continues their week-long series of interviews with Tom Felton (see interviews with Emma Watson and Rupert Grint in their 'related stories' links):
The 16-year-old believes playing evil Draco has wrecked his chances of finding a girlfriend.
Tom told The Sun: "Apparently girls like bad boys — but it's quite the opposite with myself. Draco isn't the girls' cup of tea in my experience."
Thanks for the reminder, Carly!