Cast and Crew Screening, Leicester Square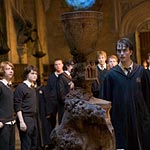 May 29, 2004
Uncategorized
Today, editor Kristin and I had the extreme honor of attending the cast and crew screening of Harry Potter and the Prisoner of Azkaban with Jamie Waylett, Devon Murray and their friends, in Leicester Square, where preparations for tomorrow's premiere are already underway.
This screening gives the entire cast and crew a chance to see it all together and bring almost as many of their friends along as they like. In fact, they had too many people; a second screening took place across the way at the Odeon West End.
As soon as we got there we could tell that tomorrow's premiere will be nothing short of enormous – literally. Photos of Hermione, Harry and Ron, roughly the size of small buildings, hang above the theater's awning, and workers were busy attaching a larger than life metal "Harry Potter" to the awning itself.
For a complete report (no film spoilers), click the link below.


The event itself is very laid back, much more laid back than tomorrow's event will be. The cast and crew, scattered and relaxed with their friends, queued up to go into the theater the same way they would for any other movie. When we went inside, we simply hung about for a while, waiting for everyone to get in, say hello to all of their friends, and find where they'd like to sit.
We wandered over to say hello to Chris Rankin, and he was saying to someone from our group, "Leaky Cauldron people? Where?" Right there. He was with Lynn, who runs his site. Chris seems a very normal guy, and we were glad to be able to thank him for the support he's shown Leaky in the past. We talked briefly about the film, and Hedda Gabbler, in which he just starred. He said he'll be doing the production again in January or February; keep up here for more info, as we're sure to announce it.
We sat up, up, up, up, way up, all the way in the next-to-last row. One of Jamie's guests was a 9-year-old who reads the books only after she sees the movies; she looked so thrilled to be there.
David Heyman, wearing jeans and sneakers, came onstage to start the film, and introduced a similarly-dressed Alfonso Cuaron who addressed the audience in his usual ebullient way. He said it was his job only to stand back and let all "you" (cast and crew) amazing people work. He also thanked the cast and crew for not speaking Spanish, because, as he explained it, when he had an idea on set and tried to communicate that idea, he usually failed verbally – which he said worked out, because what everyone thought he said worked out a lot better than what he actually said.
At the New York premiere, Cuaron dedicated the film to his wife, because "I thought I worked hard," he said, until he saw his wife with his new baby, Tess Bu. Today he explained that when he came home from a long day on set and be playing the "oh, poor Alfonso" routine, his wife would still be running around with the baby, and tell him to just go to sleep, because she knew he had another long day coming. So he dedicated the film to all the moms who work on and behind Harry Potter.
The movie was…[a big black hole called EMBARGO goes here. We'll fill it in soon.]
Oh, ok, we can't resist – Kristin is sitting next to me and telling me to hell with the embargo! Just a little: David Thewlis is Kristin's new favorite actor, and I have even more respect for Cuaron and Oldman on second viewing. And if I say more WB will chop off my leg.
When the credits rolled, we expected the usual exodus that happens in American movie theaters – but we forgot who we were watching the movie with. Everyone stayed in their seats, cheering their heads off at random intervals – like for the "second unit third lighting first grip" or something. (I made that up.) Until you sit through all the Harry Potter credits, it's hard to realize just how many people work on the movie. It's astounding. And just when you think it's done…there's another unit. And more costumers, and lighting people, and effects…and most sections got a big cheer. It was a fair assumption that most people were cheering for the people with whom they arrived – but Gary Oldman, who wasn't there, got a tremendous roar, as did some other adult actors and the trio.
After the film, things got a little crazier. Firstly, we briefly lost Jamie and Devon and everyone – now, Devon's tiny, and is easy to lose in a crowd. But Jamie? Can't lose him with a flashlight. So we got our cameras back and waited outside, where the police were vainly trying to clear the square, to no use. The extended family and friends of the cast and crew were getting their tickets autographed.
Jamie and Devon got mobbed, and didn't mind at all. They were outside the theater for at least another half hour, signing lots of tickets and books for kids.
The twins, Harry Melling and a lot of featured actors from the film were there, and so were a lot of the doubles. The doubles for Harry, Ron and Hermione look like…well…doubles, and were walking around together as well, giving us deja-vu.
Cuaron and David Heyman were also mobbed; both were genial and accommodating but complaining of bad jet lag. In honesty they did look a little worse for wear. Let's hope they get some sleep before tomorrow. (I'm sure it didn't help things when David Heyman felt a TLC editor – Kristin, not me for once! – tripping over him. – Kristin would like a P.S. added that says she did not hurt David Heyman.)
If Leicester square was crowded today, we can only imagine what tomorrow will bring. It took some time to clear the square, but eventually everyone went on their ways, going off to eat or chat or shop – we went home to rest our aching feet.
More tomorrow!