Ain't It Cool Publishes Another Enthusiastic Review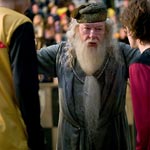 May 03, 2004
Another excited PoA review, this one spoiler heavy, has popped up on Aint-It-Cool-News.com. Read at your own risk, and parents, our standard warning with this site applies: many of its users use strong language in its forum (though we as always appreciate their enthusiasm for TLC :). Warning: In the comments under this review, many of AICN's posters' words go beyond "strong" and into NC-17 phrasing.
AICN also points out a link to a Japanese trailer which apparently contains small bits of new footage.
A non-spoiler excerpt from the review, the writer of which has read the first four books five times:
This movie has the right feel of Harry Potter. It got that magical touch that the others lacked. Also this one has no scenes that made you want to vomit (think Hagrid-loving end scene in CoS).