Actors Too Tall?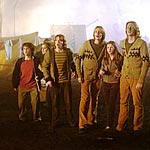 May 08, 2004
Uncategorized
The National Inquirer via Online Ireland reports that carpenters for the Goblet of Fire set "are rebuilding everything oversized, according to the National Enquirer, so the suddenly taller kid stars will still look small."
We wonder if this (very brief) mention mistakes set techniques that we know have been used such as forced perspective or building a larger and smaller version of Hagrid's home to make Hagrid look larger as being employed for a different purpose.
Thanks to Scott for the link!