Mary GrandPre Featured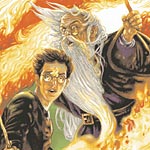 May 08, 2004
Uncategorized
Mary GrandPre has been mentioned in USA Today: The Magazine of the American Scene as one of many Women in Illustration: Contemporary Visions and Voices in the magazine's May issue (which isn't online yet). The feature story in the "Museums Today" section of the magazine mentions the exhibit of women illustrators which is on view at the Norman Rockwell Museum in Stockbridge, MA through May 31.
The exhibition encompasses a wide range of artistic styles-from the illustrations for the blockbuster Harry Potter books to the Breast Cancer Research Stamp that has raised over $37,000,000 for research-and presents a unique look at the work and creative process of some of the nation's leading female artists.
Thanks to Marie for getting us the information!