Jamie Waylett Opens Web Site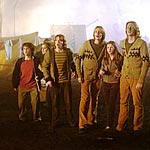 Jun 12, 2004
Uncategorized
Jamie Waylett (a.k.a Vincent Crabbe) has officially opened Jamie Waylett.com, his own personal Web site, where you can read his diary, view his personal pictures, and even leave him a message on his guest book. His latest diary entry talks about his, Tom Felton's and Josh Herdman's appearance on the ITV show Ministry of Mayhem:
"Tom Felton, Josh Herdman and I appeared on The Ministry of Mayhem, a kids programme on ITV. We all had a great time. We took part in a game where we placed a big cake on one end of a skateboard (mine was in the shape of a Crab) and jump on the other end, to send the cake flying up against a wall. Tom won of course, but me and Josh think it was fixed!"
Jamie has also sent along this pic of him, Tom and Josh on the Ministry of Mayhem show.
Also, Jamie still has a ton of questions to answer from Leaky readers; he will, it's just been a very busy couple of weeks for all the Potter people.
Enjoy!