Are Harry's Younger Film Fans Moving On?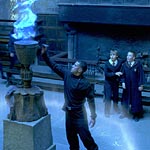 Jun 16, 2004
Uncategorized
Some pre-teens who loved the first two Harry Potter films claim not to be particularly interested in the third. Industry experts, however, says there's nothing to worry about:
"Harry Potter has proven to be a mainstay and not a fad, like the Teenage Mutant Ninja Turtles, the Power Rangers and other kid crazes," said Brandon Gray, president of Box Office Mojo, an online tracking firm in Los Angeles.
"There's always the chance that this will be the lowest grossing Harry Potter," Gray said. "That's just the natural progression of a franchise: It's rare for a third movie to out-gross its predecessors – second movies like 'Toy Story 2′ and 'American Pie 2,' yes, but rarely a third movie.
"But," he added, "I think 'Harry Potter' is poised to break that mold."
The article also mentions Potter's adult fan base, and has this from screenwriter Steven Kloves:
"Personally, I thought the first two movies – made at the absolute peak of the Potter frenzy – were too long," Kloves said. "The third book is 100 pages longer than the second one, but we came in shorter, because we didn't want to introduce characters all over again. Our feeling was that the price of admission to this movie was some familiarity with Harry's world."