New York Times Reviews PoA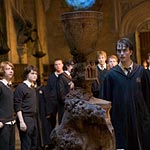 Jun 02, 2004
Uncategorized
The New York Times has posted their review of Prisoner of Azkaban. Titled "An Adolescent Wizard Meets a Grown-Up Moviemaker", the reviewer writes
"This is surely the most interesting of the three Potter movies, in part because it is the first one that actually looks and feels like a movie, rather than a staged reading with special effects. "Sorcerer's Stone" and "Chamber of Secrets," both directed with literal-minded competence by Chris Columbus (who has stayed on as a producer) may have been more faithful to Ms. Rowling's text, but "Azkaban" attempts, and for the most part achieves, a trickier sort of translation. "
Registration at the Times site (free) is required to read the entire review.