OotP: One Year Gone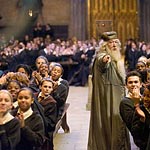 Jun 20, 2004
Exactly one year ago, the first copies of Order of the Phoenix were being distributed in Britain, and ten minutes after that I sat with 13 friends, holding hands and squealing, as a friend read us the first few pages over speakerphone. He had been lucky enough to be at the bookshop in Edinburgh where J.K. Rowling had shown up for a surprise reading.
TLC editors B.K., Kristin and Megan were among those 13, all of whom at this moment were enjoying a pre-bookshop barbecue. B.K. and I were reading over each other's shoulders, fondly wrapping up our retrospectives and posting them on TLC, and then finally shutting the site down for the weekend. (Though we quickly reopened to scream about J.K. Rowling's surprise appearance.)
We had all gathered at my family's New Jersey shore house for that wonderful weekend, and I'm sitting in that house now, accidentally in the exact spot I was in when we shut the site down, which to us was the final sign that we were actually about to read the fifth book.
We came back online the next Tuesday, and the comment thread on that post is still active, the last post (#1732) posted four days ago and still very much on topic.
A whole year. Where were you?