Interview: Heyman, Columbus, Radcliffe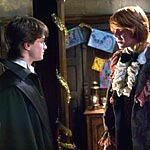 Jun 21, 2004
Uncategorized
Our last of the junket set: The PoA Producers: David Heyman, Chris Columbus and Mark Radcliffe. This interview had to be really short because we were all running off to the press conference, but it's still good, I think. Quotage:
TLC: Did you guys have a heart attack when you saw the size of book five?
David Heyman: Book four's pretty big! [Laughter]
TLC: So how is that translating right now as you prepare to get it done?
DH: We started shooting three weeks ago. It's going to be one film, it's not going to be two. We will make choices, there will be things that will be cut. We cut things out of three, we cut things out of two, we cut things out of one. We're going to have to cut a few more things out of four. But as long as we are true to the spirit of the books and as long as there's a very strong narrative I think we'll be ok.
Enjoy!