Castwatch: Oldman, Isaacs News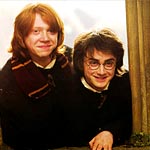 Jun 22, 2004
Uncategorized
Many readers have emailed about upcoming roles for some Harry Potter actors:
Siriusly Star Wars? According to Gary Oldman's (Sirius Black) manager, the actor is in negotiations "to perform a character voice in the upcoming Star Wars film. "
Isaacs Elektra: Coming Soon reports that Jason Isaacs (Lucius Malfoy) has a role in Elektra as a character named DeMarco.
Finding Neverland: Julie Christie (Madame Rosmerta), Ian Hart (Quirrell), and Paul Whitehouse (Sir Cadogan) will all appear in Finding Neverland.
Thanks to everyone who sent this in, esp. Jeff and Brooks!