New GOF Cast Members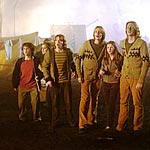 Jun 25, 2004
Uncategorized
Warner Brothers has just released a list of confirmed new cast members for the Goblet of Fire film. Joining the cast are:
Roger Lloyd- Pack as Barty Crouch
Pedja Bjelac as Karkaroff
Jeff Rawle as Amos Diggory
David Tennant as Barty Crouch Jr.
Confirmed are those that we told you previously: Clemence Poesy as Fleur Delacour, Robert Pattinson as Cedric Diggory, Stanislav Ianevski as Vitkor Krum, Katie Leung as Cho Chang, Brendon Gleeson as Mad Eye Moody, and Frances De La Tour as Madame Maxime.
Click here to read the press release in PDF.