JKR Confirms Hoax; Updates All Around Site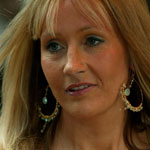 Jun 28, 2004
Uncategorized
Check out her Rumors section.
"I am trying very hard not to feel offended that anyone thought this was possible. 'Storgé', for crying out loud. Come on, people, get a grip."
She also creates a rather funny new title rumor. Go to her site to get a chuckle.
(If you ask me, she's rather responsible for all of our loose grips. We rule out nothing, JKR, nothing! We know better.)
Update: Make sure you check out her FAQ section as well; there's a horde of new information on her life, writing, her family,and, in regard to the books, Hermione, CoS, the mirror in OotP, and much more. (Text-only link here.)
She's also, ah…taken care of people breaking through that door of hers. Go ahead, try to get in.
Thanks Kate for the tip!