Coming Soon on TLC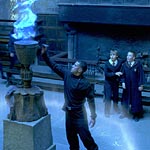 Jun 03, 2004
Uncategorized
Three weary TLC editors have returned to the U.S. tonight and will soon be bringing you a full report of the London premiere of Harry Potter and the Prisoner of Azkaban, which we were lucky enough to attend, and the after-party, which we were so lucky to attend we're not quite over it yet. (Yes, that's a blurry picture, but it sums up the atmosphere of the night, we thought.)
Since we did not go officially "as" TLC but as personal guests, we are going to put together a much more personal account than the usual report, as soon as we can. (This trip to London was originally planned as a non-HP vacation, so the days since the premiere have been full of non-HP activities.) We have a busy weekend with the opening and the IMAX showing on Saturday, so please be a little patient.
Our reviews of PoA are also in the works, as are some interviews that we can't wait to share with you all. In the meantime, Jamie Waylett (Vincent Crabbe) has sent regular Leaky readers (and comments posters) a little gift – of the inside-joke variety. Sombrero, anyone?