DanRadcliffe.co.uk Honor Dan Radcliffe's Birthday with "A Punk Rock World"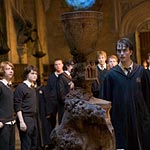 Jul 23, 2004
Uncategorized
Another great Dan Radcliffe gift has been sent out by DanRadcliffe.co.uk; a CD collection called "A Punk Rock World."
Fans made CDs, collected music and memorabilia of international Punk and Rock bands, and send it all in a large box for Dan to peruse.
There were also DVD Music Documentaries, and any burned CDs were made using paid online services like Napster and the online iTunes music store. Memorabilia inlcuded band photos, magazine clippings, books and biographies of bands and band members, concert posters, pins and buttons, leaflets and flyers, patches, postcards, concert programs, stickers, concert tickets, sheet music for the bass guitar, song lyrics, and quotes made by popular punk or rock musicians.
The fans autographed their CDs with markers and included a small letter and picture in the package.