Aced: Fans Create Music/Style Magazine in Honor of Dan Radcliffe's Birthday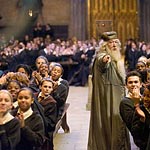 Jul 23, 2004
Uncategorized
In honor of Dan's birthday, Jenna from DanRadcliffe.com has come up with one of the more original birthday gifts we've seen: a magazine. Not just an e-zine, or newsletter – no, an actual semiannual print magazine called Aced. Jenna calls it a "new entertainment and lifestyle publication, created for Dan's birthday and more, aimed primarily at readers in their teens and twenties." The magazine will come out at Christmas and at Dan's birthday each year. Its Web site, www.acedmagazine.com, will be updated regularly.
Largely music-based, it features celebrity and band interviews (in this issue
Stereophonics and On Our Own), reviews of concerts (Linkin Park, Sum41, The
Strokes), albums, books and movies, and in the future will have chances for
audience participation. There are only 35 copies of the first issue; 5 readers
may win a copy through the
"Where in the World is Dan Radcliffe?" sweepstakes.
The title of the magazine was inspired by the card trick Dan showed Jenna when
they met last time on set. As it says on the site: "The articles and material
within the magazine have been and always will be produced by his fans. There were over 7,000 of them from all over the world who contributed to this magazine in one way or another."