TLC Exclusive: Rita Skeeter Cast; Miranda Richardson Picks Up Quick Quotes Quill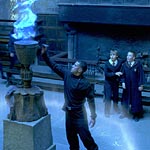 Jul 23, 2004
Uncategorized
Extremely
reliable sources tell us that British actress Miranda
Richardson will play Rita Skeeter in Harry Potter and the Goblet of
Fire. Ms. Richardson (headshot)
is most commonly known for her roles in The
Hours (playing Vanessa
Bell), Sleepy
Hollow (playing Lady Mary Van Tassel, pictured here with Michael Gambon,
aka Dumbledore) and The
Crying Game (playing Jude).
Born in Lancashire, England, she has a long profile that also includes
characterizations of the Queen
of Hearts in the 1995 Nick Willing TV adaptation of Alice
in Wonderland, as well as Queen
Elizabeth in Blackadder
Back & Forth. You can find more information on her at
her unofficial Web site, www.miranda-richardson.com.
Since it's already late on Friday, we don't expect official confirmation until
after the weekend, but we trust the information nonetheless.