ADMIN: New Text Page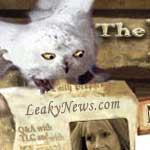 Jul 24, 2004
Uncategorized
We hope you like the new text layout of TLC. We received this layout in e-mail from reader Oliver Janoschek, a designer who lives and works in Germany and often uses his PDA to surf the Web. When he couldn't donate financially to the Leaky server drive, he thought he'd offer us something else; a fast-loading text page that uses the latest XHTML/CSS, works with all cell phones and portable internet devices and…well, is just plain cool.
Our favorite feature is on the right; pick your favorite house colors through which to view Leaky. Your browser should also remember which colors you picked, and return to those colors on next viewing.
Thank you again Oliver! As Leaky gets set up post-server drive (more info coming soon) this site will get faster and we may even be able to go back to our regular layout, with the text page as a secondary option for those who prefer it. The one we had up until recently was a very quick fix done in about an hour; this one just looks great and we're proud to have it.