Jo Rowling Expecting Third Child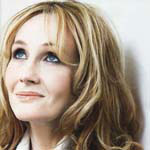 Jul 24, 2004
Uncategorized
Jo Rowling writes on her website that she's expecting a third child, to be born sometime next year, and reassures her readers that while she can't say exactly when book six will be finished, it's well on track and she doesn't anticipate any baby-related delays.
Congratulations to Jo and her family!
Update: Her child is already making news – there's already a CBBC and Ananova article about her pregnancy.