Voice of Voldemort Speaks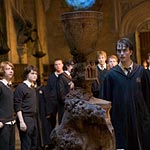 Jul 25, 2004
Uncategorized
There is an interview in the Sunday Herald with Richard Bremmer, the actor who voiced the part of Voldemort in the first Harry Potter film. He says that while he was hired for the part, the producers have decided to use a bigger star for the role of Voldemort in the upcoming Goblet of Fire film.
Bremmer, who will perform in a solo show, Mongoose, at the Edinburgh Festival Fringe, believes the role of the villain in the fourth film – Harry Potter And The Goblet Of Fire, directed by Mike Newell – will be given to a star because the film-makers have invested such large sums of money.
"I can only assume they wanted more of a Hollywood name," he said. "Originally, I was cast as Voldemort, but they changed it during the process and gave me the credit for He Who Must Not Be Named."
Bremmer said he enjoyed being in the film, but believes that financial and Hollywood pressures on the film-makers led to his being pushed aside.
Thanks to Andy from The Harry Potter Fan Zone for the tip.