Bloomsbury Offers a Chance to Meet Jo Rowling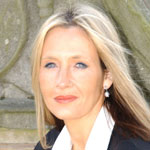 Jul 26, 2004
Bloomsbury has announced a competition to meet J.K. Rowling at the Edinburgh Book Festival next month.
"Tickets were not sold for this event, but were available through a ballot, which has now closed. But don't panic – we are delighted to offer you the chance to win two pairs of tickets to hear JK Rowling reading in Edinburgh, have the chance to ask her a question, and get your copy of Order of the Phoenix signed by her. Two lucky runners up will win a signed copy of Harry Potter and the Order of the Phoenix."
For more info, including contest rules, click below!
The release goes on
: We would like you to design your own fantastic beast. Have a look at the Fantastic Beasts and Where to Find Them book (part of the Harry Potter's School Books collection) for inspiration, or even better, make up your own creature! The winning drawings will be displayed here on the Bloomsbury website.

Send your entry complete with a telephone number where we can contact you on the morning of Tuesday 3rd August to JK Rowling event competion, Bloomsbury.com, 38 Soho Square, London W1D 3HB. The closing date is Monday 2nd August.
The competition is open to children up to 16 years of age, but there is no restriction on where the child is from – although we at TLC suggest that if you're not in the UK, you get permission from your parent or guardian before entering.
More information is here.