More PoA DVD Details Rumors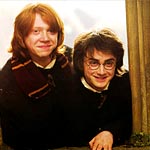 Jul 26, 2004
Uncategorized
DVD Answers has posted some preview info on the PoA DVD:
Title: Harry Potter
Starring: Daniel Radcliffe
Released: 23rd November 2004
SRP: $22.95

Further Details: "We've managed to obtain some early details on Harry Potter and the Prisoner of Azkaban which stars Daniel Radcliffe as the now legendary wizard. The disc will be available to own from the 23rd November this year, and should set you back around $22.95. As well as an anamorphic widescreen presentation and English Dolby Digital 5.1 track, the disc will include exclusive never-before seen footage, a Creating The Vision feature which includes a revealing interview with author J.K. Rowling, three new interactive challenges in which you can test your memory with "Magic You May Have Missed", help Crookshanks "Catch Scabbers" and go venture on an unexpected quest with Sir Cadogan. Other features will include self guided tours of Honeydukes and Professor Lupin's Classroom, interviews with the cast and more. We'll bring you some further details, along with the official region one artwork shortly."
Once again, this is all unconfirmed, and there has been too much contradicting info about the DVD online to believe any one bit – although this certainly sounds convincing. Thanks Amar!