DVD Details Confirmed: Two-Disc-Set for Each Film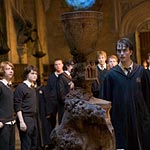 Jul 27, 2004
Uncategorized
We've just confirmed from extremely trusted sources the PoA DVD details that DVD Answers has been telling us about for two days. They rock.
The PoA DVD itself is indeed two discs. On a clarifying note: the "three-pack" the details discuss is a package of six DVDs, which contains two discs for each HP film to date.
The features are:
-Exclusive Never-Before-Seen Footage
-Creating the Vision: A Revealing Interview with J.K. Rowling and the Filmmakers
-3 Great Challenges! Test Your Memory with "Magic You May Have Missed."
-Help Crookshanks "Catch Scabbers" and Go on and Unexpected Quest with Sir Cadogan
-Enjoy Self-Guided Tours of Honeydukes and Professor Lupin's Classroom
-Johnny Vaughan and the Shrunken Head Lead Raucous Interviews with the Cast
-Meet the Animal Trainers in Care of Magical Creatures
-And more
It will be, as previously rumored, released on November 23. The cover art and screen shot are accurate but subject to change. The DVD will be between $22.95 and $29.95, the three-pack between $44.95 and $59.92, depending on where you shop.