Persisting Ralph Fiennes Rumors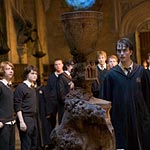 Jul 27, 2004
Uncategorized
Web India has a piece, based on a Daily Mail article, about Ralph Fiennes being "all set" to play Voldemort, despite the final paragraph of the article being this, from a film spokesperson:
"Oh, he'd be really good, but there's no one in place yet. Obviously, they are speaking to people, but that role has not yet been cast," said a spokesperson for the film.
There are few better examples why we get crazy, off-target rumors than this article. The Daily Mail piece is from June 25. A film person clearly states the role has not yet been cast, and they lead with "all set" – using unattributed info about him being "in talks" with producers. It almost makes us want to revive the Vernon Dursley Award (which is the award we used to give particularly Muggle or Skeeter-ish reporting).
Note: That does not mean he's NOT in talks. He very well might be – or he might not. It's just…interesting reporting.