Ralph Fiennes as Voldemort Rumor Grows Very Strong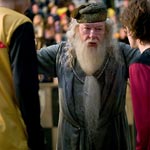 Jul 29, 2004
Uncategorized
Now we're getting very strong word from our own sources (in the plural) that the rumors may be true, that Ralph Fiennes (headshot) is thisclose to taking on Voldemort. We're hesitant to say it's a done deal, but consider this rumor far more likely to pan out than not.
Fiennes is a very well known, Oscar-nominated and BAFTA Award winning actor. His most famous movies include Schindler's List (as Amon Goeth), The English Patient (as Count Laszlo de Almásy), and Red Dragon (as Francis Dolarhyde).
He is also known for lighter fare like Maid in Manhattan and played opposite Miranda Richardson, who will play Rita Skeeter in GoF, in Spider.
We'll update you as soon as we know more.