Signed JKR Books Bring in £3,600 for Charities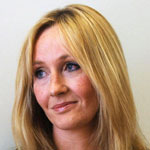 Jul 30, 2004
Uncategorized
A few weeks ago we reported that Jo Rowling had donated a set of signed Harry Potter books to support fund-raising efforts on behalf of both the Fire Services National Benevolent Fund, an organization that provides therapy and support to injured fire fighters and their families, and the Multiple Sclerosis Society of Scotland, a charity that Jo Rowling regularly supports. We just received this from Margaret, the Scottish fund-raiser for FSNBF:
We were delighted that this raised £3,600 for two charities – ours and MS Society Scotland – and our USA bidder saw this advertised on your site!
Margaret asked that we pass on a big 'thank you!' to anyone who was able to participate in the auction – that money will be very helpful to both charities (of course, if you weren't able to participate in the auction, both organizations accept donations directly – please see see their websites). And our thanks to Margaret for updating us as to the outcome of the auction!