Thanks to everyone who came to POA IMAX FTL!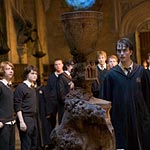 Jul 31, 2004
Uncategorized
Thanks so much to Jenna of danradcliffe.com and the 300 other people who helped sell out the POAIMAXFTL show this afternoon at the Museum of Discovery & Science in Ft Lauderdale. This is a long post, so read more (including the day's trivia questions) by clicking below!
There were dozens of people there who'd heard about it from my posts here and on FictionAlley.org, as well as danradcliffe.com and MuggleNet and various LiveJournals including the HP_Florida one – we had about 20 kids and a dozen adults in the cosume contest, and Jenna is going to post a full list of the winners – with photographs – later today – the Museum donated two "family four packs" for the top adult and child costumes, and Alivan's fedexed us a wand and a red-and-orange tie to use as prizes, too. Also, special kudos to those who got the trivia questions right, especially the creative ones about blue cake frosting – you can read the questions below.
It's always amazing to see the film in a crowd of intense fans, and I'm sure that those of us who were lucky to attend the line parties, midnight showings, IMAX events and sneak previews throughout this summer are going to enjoy a slew of events when it comes time for Goblet of Fire (just don't ask us to plan them for the next twelve months – we're still recovering from this summer!), and, of course, whenever Book Six is released. Thanks again to everyone who helped, and everyone who attended!
I'm going to post the answers in the comments section, along with the questions- the first set were to win wizarding crackers that Jenna brought back from the UK, and the second were to win amazing glossy photos of Daniel from DR.com's trip to the red carpet:
CRACKER QUESTIONS:
What sort of beast from Fantastic Beasts could, theoretically, make magical cake frosting turn blue?
When is Neville Longbottom's birthday?
Using book chronology only, how old did Harry Potter turn today?
When did the first book come out in the UK (month and year) (this proved to be the toughest question to answer – I think over a dozen people guessed!)
What month is Goblet of Fire supposed to come out in the US and UK?
What House did the Sorting Hat first suggest Harry should be put into?
DAN QUESTIONS:
What is Daniel's middle name?
What is Daniel's birthday?
In which year did he go to Japan?
Who is the oldest in the trio (movie or Real Life chronology answers are ok)?
What did Daniel do for his birthday this year?