ADMIN: Leaky's Server Drive Unbelievable Success; Editors Kiss Each Donor Individually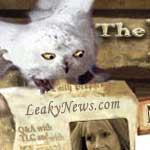 Jul 08, 2004
Uncategorized
Well, guys. You've done it again. We're flabberghasted. We're closing the drive down because we've already beseeched too much of your generosity, and we have more than enough to keep Leaky around a very long time.
Most of the donations come in within 24 hours of the call for help…and they totalled almost $12,000 in PayPal and cash/checks/money orders – oh, yes, and paper clips. Whoever you are, we got the unsigned package of giant colored paper clips, and love them a lot.
We love even more all the support you guys expressed. All those "Here's my $2, it's all I can give and I wish it could be more"s? Those really added up. And when some of you crazy people – you know who you are – opened your pocketbook and emptied it into our laps, our mouths dropped open and stayed there.
Even better were the letters and e-mails and notes and cards and greetings – such as the one from Mrs. Herrmann's 7th-grade English-as-a-second-language class (who scrounged in their couches, milk money and parents' cars to come up with a donation), and the one from the gentleman who implied that if we dare sent him a gift in return, he'd become quite cranky.
To honor all your wishes that your money be put to good use, Leaky is buying a top-of-the-line server that will allow us to give you superfast and always-running coverage. And there is plenty to spare, which will go into savings as money for operational costs for if/when we need it. Thanks to some more outrageous generosity (which we will explain soon), that money is going to keep Leaky well in business through book and movie seven – that is if a certain author keeps up the pace (nudge nudge, wink wink, Jo). What's more, it will allow us the room to expand and grow; we can't say there's no chance of ads ever, but we can stave it off for a longer period of time, now.
We've always said that Leaky is the fans' site – it's now literally true. Thank you all again. We don't know if we can ever say it enough.