GoF Filming Ashridge Reports and Scene Description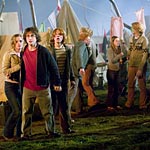 Aug 10, 2004
Uncategorized
Since we crashed, Mugglenet has posted a few GoF filming reports -check them out!
Tracy has also sent us hers, which details the scene she saw filmed to the best of her ability. It's a great reconstruction and we thank her for it – read below!
Harry Potter and the Goblet of Fire filiming: Ashridge location shoot

August 6, 2004

By TLC reader Tracy

I arrived at Ashridge at about 1pm . The cast were back at the base having lunch, so we sat down on the grass to wait for them to come back and continue the filming. The crew were very friendly and had set aside a little place for people to sit and watch.

At around 1:10pm everyone started arriving back at the location in their respective cars. Emma Watson had the window open and waved at the small group of people that had gathered to watch (there were probably about 50 or so but I didn't count them so I can't be sure, and people sort of came and went).

The cast in attendance were: Daniel Radcliffe, Emma Watson, Rupert Grint, James and Oliver Phelps, Bonnie Wright and Mark Williams. All the doubles were there too. They filmed a good few takes of the following scene:

Harry, Ron, Hermione, Ginny, Fred and George were following Mr Weasley as he led them through the forest. Fred and George were walking behind Mr Weasley. Harry and Ron were behind them and Hermione and Ginny were behind them. They walked for a while, then Ginny and Hermione ran past Ron and Harry so they were directly behind Fred and George. This little bit of dialogue followed (I think I've got the dialogue right but I'm not entirely sure; there also may have been more dialogue leading up to it but I couldn't hear it):

Ron (or possibly Fred or George): Where are we going, Dad?

Arthur Weasley: Haven't the foggiest, now keep up. (to Harry and Ron, who are lagging behind) come on you two!

Mr Weasley clapped as he said the last line and then Harry and Ron walked faster to keep up.

Harry was wearing a red T-shirt with his blue jacket with the two stripes (like the one he wore in PoA) and beige trousers (I think). Hermione was wearing blue jeans, a pink T-shirt and a really nice grey-ish fitted jacket that had pink trim on the end of the sleeves, she had her hair up in a pony tail.

At about 2:30pm they finished for the day and the cast were all driven back to the base in their cars. As they left Daniel had his car window opened and waved at the crowd and so did Emma (they were in separate cars, btw). I was caught a bit off guard by this and didn't even have the camera ready.

Later on one of the security dudes talked us through a scene that they filmed earlier in a different part of the wooded area which involved Mr Weasley, Harry, Ron, Hermione and Fred and George walking up to a big tree to meet Cedric Diggory and Amos Diggory. When they first meet, Cedric is apparently sitting up in the big tree and jumps down during the scene. I didn't see the scene myself, that is how the security dude told it to us.

I was also told previously that the big tree was the Whomping Willow. This doesn't fit in with what actually happens in the scene so I'm not sure if that information was correct.