Rowling Edinburgh Reading Transcript; HBP Status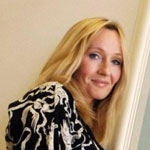 Aug 15, 2004
Uncategorized
Update: The transcript is now up at J.K. Rowling's website! (Thanks, Meriion!)
As to when we might see book six, Jo had this to say, when asked which book is her favorite:
I would have to say that it is probably Harry Potter and the Prisoner of Azkaban, although at the moment-it is unfair of me to say it-Harry Potter and the Half Blood Prince is my favourite book. Sorry. I am the only one who has read it and I think it is rather good. I am normally like this when I write a book. Usually when I am just over halfway I normally love it, but by the time I finish it I completely despise it and think it is worthless rubbish. At the moment, I really like how the sixth book is going.
So is it reasonable to say that HBP is, at the very least, 'just over halfway' complete?

And just to clarify, JKR did not say Harry would survive through book seven, but TO book seven, which means he will be alive at the beginning of the book. No word on the end.
Photos from the event are here.
Updated August 16 – FictionAlley member Anne-Marie was the attendee who called out that she was a fan of Snape, and she's uploaded a slew of attendee-photos here, and if you go to that page and click on event you'll be able to read her report from the event!
We're moving the rest of the info on this story to the link below, to clear some space on the main page now that we have all the transcript info we need. Thanks everyone!
Pre-JKR-transcript post:
Lizo Mzimba of the CBBC is at JKR's reading in Edinburgh today, and reports that not only is JKR half done with writing Book Six (Harry Potter & The Half Blood Prince), she disclosed tidbits about the book, and plot hints in her presentation! Click here to see the Newsround report; click here for the BBC article. CNN's is here.

But be warned – there are spoilers – avoid both the articles and the comments section if you want to remain spoiler-free.

Update: We will add reports from readers as they come in; click to read Emily's brief overview and Kirsty's rather detailed bit which includes some as-yet exclusively reported info!

Emily wrote: We were out queing at 7 am this morning. Lizo from CBBC Newsround was there and I saw him taking down everything that was said. It was by far the best experience of my life. JK was very pleasant and she thanked everybody for being there. She walked in the very front door while we were out queing and everybody there was so dumbfounded that we all went quiet and just looked at her walk in, we didn't even say hello!!

Kirsty wrote:

I just got back from the event. I wouldn't read too much into McLagan. Someone just asked her the old one about where she gets her names, and she happened to mention that she thought McLagan was a wonderful name and that it was too good not to fit in somewhere. As for Dudley, someone asked whether there's more to him than meets the eye, and the answer was a flat out 'no'. She never even said anything about the dementors in 'Dudley Demented', and said that there will be little of the Dursley's in book 6, but that they'll be a little more involved in book 7. From the way she talked about it I would seriously doubt that Dudley has any hidden magical qualities.

And then on Kirsty'sLivejournal:

It was very good – she revealed a lot more than usual. It was mostly children asking the questions, so there were a lot of 'did you always want to be an author' and 'what's the first character you thought up' questions, but there were a few good ones too. Most tantalizingly – for me at least, if for no one else – someone started to ask whether we'll be seeing more of Blaise Zabini, and just as she started to answer with 'Blaise, yes…', the person asking the question interrupted with '… and will we see more of Snape?' I think it was just a badly phrased question, because of course we're going to see more of Snape, but Jo ran with this instead, not saying very much of anything new, leaving me open mouthed at having this precious information dangled in front of my face, only to be snatched away again.

She started on the Slytherin fans again, ascribing support for them to the Bad Boy Syndrome and Tom Felton's dubious appeal (not to disrespect his fans – I just don't see it, myself), and, this time, Alan Rickman too. One girl asking a question even prefaced it with 'I love Snape, he's such a complex character', and she still went on about the Alan Rickman thing, which I found to be a little insulting. Still, enough needless rambling about victimised Slytherins.

Everyone knows by now about Aberforth, Dumbledore's patronus and the rest. I got a few other notes though that I haven't seen mentioned elsewhere.

Someone asked whether Tom Riddle or Voldemort ever loved anybody. She said no; he would never have become what he did if he had, and we'll learn more about it in the future.

When asked if Snape can see Thestrals, and she answered yes, he's seen some nasty stuff with the Death Eaters, but most of the adults in the Wizarding World can probably see Thestrals.

She reiterated that there is no trace of the Half Blood Prince storyline in CoS anymore.

On portraits – they're not as 'fully realised' as ghosts. They're like faint imprints, an aura. They're likely to repeat catchphrases like Sirius's mother.

I don't know if it makes a difference to anyone's timelines – I can't think how it would – but Harry's christening was a fairly private affair because by this point they knew they would have to go into hiding. Harry does not have a Godmother.

On the matter of Petunia: I haven't written it down exactly but both my sister and I agree she did NOT say Petunia is muggle-born. She said she is a MUGGLE, but implied there is more to Petunia. She didn't put a lot of emphasis on it, but there was definitely something she didn't want to reveal.

While I'm on that topic, someone asked if there was more to Dudley than meets the eye, and she replied with a flat out 'no'. I thought this was surprising, considering the effect the Dementors had on Dudley in OotP, but she basically said that with Dudley, what you see is what you get, again mentioning the Dursley's smaller role in Book 6, and that they would reappear for longer in book 7.

It was a really good event in all. She read a passage from Order of the Phoenix – the scene in which they find out Ron has been made prefect – and then there was a book signing. I'm now going to my bed, after getting up at the unholy hour of 5.30 in the morning, which I haven't seen this side of the daytime since I don't know when. Major props to the American girl sitting next to me – that's dedication!

ETA – Sorry for the massive comma abuse in this post. My brain's sort of short circuiting at the moment and I can't keep my sentences from running on.

CNN reported what she said about the possibility of Ron and Hermione being boyfriend/girlfriend by the end of the series:

"I'm not going to say. I can't say. I think I've given quite a lot of clues by now on this subject," she said. "You are going to have to read between the lines on that one."