Order of the Phoenix Best-Selling on Multiple Lists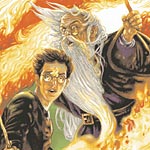 Aug 19, 2004
Uncategorized
After debuting on August 11, just eight days ago, the paperback of Harry Potter and the Order of the Phoenix is already on many besteller lists, including: USA Today's, Book Sense's, Amazon's, and Barnes and Noble's.
In addition it is number eight on Barnes and Noble's Top 100, 35th on the Amazon.com overall bestseller list.
The New York Times's children's paperback list comes out on Saturday, and in all likelihood will feature OotP at the top spot; as it is, Goblet of Fire holds the position.