Dementors deemed "summer's scariest creature" by NY Times' film critic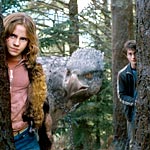 Aug 23, 2004
Uncategorized
A.O. Scott writes:
"Prisoner of Azkaban," the third-highest-grossing release of the summer so far, includes the season's scariest creatures, the wraithlike Dementors, who may also be emblematic figures of an age in which, it often seems, we have everything to fear including fear itself. The Dementors, skeletal and shrouded in black mist, practice an intimate, Orwellian form of terror, sucking all hope from the souls of their victims. What makes them especially sinister is that they are part of the wizard world's system of law enforcement, terrorizing the innocent to protect them from the guilty (or, in the case of Sirius Black, from the falsely accused).
The woodland monsters that haunt "The Village" could be the Dementors' long-lost American cousins. (That they are referred to as "those we do not speak of" also aligns them with Voldemort, the arch-villain of the Potter series, better known as "he who must not be named.")
To read the rest of the article, registration is required, but free.