Scotsman: Gilderoy Based on JKR Ex-Husband; JKR Spokesperson: No!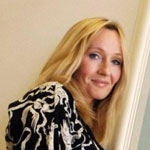 Aug 24, 2004
Some of you have emailed to tell us about yesterday's Scotsman piece claiming that JKR admitted that the vain Gilderoy Lockhart was based on her ex-husband, Jorge Arantes. This is in stark contrast to the articles yesterday that quoted JKR spokespeople vehemently denying such a thing. They went further to say that the person who Gilderoy Lockhart is based on is not a former partner of Jo Rowling's, just someone she knew at one point in her life.
This speculation started after the Edinburgh Book Festival reading/Q&A, during which she said this:
Other people have contributed the odd characteristic, such as a nose, to a character, but the only character who I sat down and thought that I would base on someone is Gilderoy Lockhart. It made up for having to endure him for two solid years.
Some assumed since it was reported she was with Arantes for about two years that Lockhart was based on him. The Sunday Mail was the first to spread it, though yesterday many outlets, including the Times of London and CBBC, ran Rowling's firm denial, and another spokesperson had this to say today:
"JK Rowling has already confirmed that Lockhart is absolutely NOT based
on her ex-husband."
It just seems the Scotsman has yet to recant.