JKR Scotland's "Most Powerful Woman"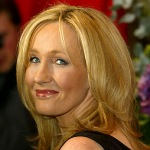 Aug 31, 2004
Uncategorized
The Scotsman has a list of the 50 Most Powerful Women in Scotland, and Harry Potter author J.K.Rowling holds the number one spot.
"In terms of international prestige, national influence and an ability to change daily lives, Joanne Rowling is in a league of her own. No other woman in Scotland commands the same level of power, nor uses it so wisely. And that is before we even consider her sheer economic power.

Her fortune is estimated at a whopping £435 million and she is effectively a one-woman industry. Her creation, Harry Potter, is internationally renowned and she was recently named as one of the 100 most powerful women in the world by Forbes magazine. She is credited with propelling children's literature into a new dimension and encouraging a generation of boys (and girls) to read.

But Rowling also has the ability to make governments sit up and take notice. In July, she wrote to the Czechoslovakian Prime Minister Vladimir Spidla complaining about the use of caged beds in Czech psychiatric wards. The day after Rowling's letter was received, the Czech health minister ordered an end to the practice. She uses her power judiciously but her backing for Edinburgh's bid to become the first UNESCO city of literature has given a significant boost to that campaign.

She is also active in a number of charities, throwing her weight behind the campaign for better facilities and treatments for sufferers of Multiple Sclerosis, the disease from which her mother died."
Thanks Connie!