Update: GoF Filming in Oxford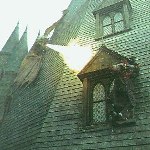 Aug 31, 2004
Uncategorized
Earlier we told you about filming of scenes for the upcoming Goblet of Fire film in Oxford, England. Actor Jamie Waylett, who portrays Vincent Crabbe in the films, has updated his website with this brief mention about that filming in Oxford.
"Just returned from filming on location in Oxford.
As usual it rained, it seems that it always rains when we are on location.

I spent nearly the whole week filming Just one scene, with Maggie Smith, Brendan Gleeson, Tom, Josh and Dan, it was great fun, I really enjoyed it.
Brendan Gleeson was great, he is very friendly, funny man who plays the part of Mad-Eye Moody.

As you will know, I'm not allowed to say too much about the filming, but I think that scene could turn out to be one of the funniest scene in all of the movies!"
Thanks to all who sent this in!