Official Devon Murray Site Launched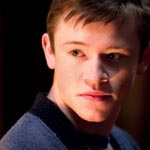 Sep 12, 2004
Uncategorized
DevonMurray.net, the official site for the actor who plays Seamus in the HP films, is now open. (It has been open for a while, but has gone unreported until now.) Enjoy!
Also, we will soon debut our lengthy interview with the young actor, which was done in May and forced aside by the movie release and all the hoopla surrounding it. Stay tuned, as life has returned to normal (or something like it) and the article is coming soon.
Update: We think you guys have done it again; the site seems to be bending under the traffic. It's either loading slowly or not at all. It's been barely an hour since this was posted and when this update was posted (about 2 p.m. EST) TLC was the only site carrying the news. You all are dangerous.