No Faith in GoF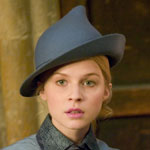 Sep 14, 2004
Uncategorized
Faith, the dog reported by the BBC as having a possible role in the film version of Goblet of Fire, does not – although that may not exclude her from being included in future Harry movies. Owner Jude Stringfellow wrote to HPANA:
We can't be in the fourth film (Goblet of Fire) because it is almost wrapped and we can't even come to the UK until she is microchipped and monitored by a vet for at least a month. If she is given a role it would be a later film. We're excited about it, and Faith would be AWESOME…. people love to see her smile, and she loves to see others laughing right along with her.
Click the link for more about Faith, including a link to her up-and-coming website.