Followup: Gary Oldman NOT in New Star Wars Film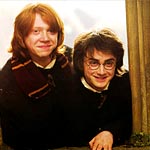 Sep 02, 2004
Uncategorized
Previously we had told you that actor Gary Oldman (Sirius Black) was in talks to be in the new Star Wars film. Gary Oldman was offered the job, but had to decline due to problems with his working on a non-(actors)union production. According to Mr. Oldman's managers website :
"Gary Oldman's voice will NOT be heard in the upcoming STAR WARS film. Gary was offered, and agreed to perform in the film, in fact he was excited and looking forward to the work. The snag that made it impossible however is that this film is being made as a non-SAG (Screen Actor's Guild) film. George Lucas and gang agreed to hire Gary Oldman if he in fact would become a union buster, and perform work illegally overseas. As a resident of America, and also a member of SAG, out of respect and solidarity with the other members, he could not and would not consider violating his union's rules."
Update: We have received many emails regarding the authenticity of this website. We are looking into it and will update as soon as we can. Thanks to all who emailed us!