Banned Books Week: Join TLC in the Fight For Free Speech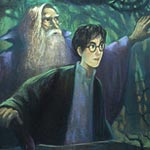 Sep 24, 2004
Uncategorized
"Oh, Harry, don't you see?" Hermione breathed. "If [Professor Umbridge] could have done one thing to make absolutely sure that every single person in this school will read your interview, it was banning it!" — Harry Potter and the Order of the Phoenix by J.K. Rowling
Each
fall since 1982, the American Library Association (ALA) has started the school
year by reminding Americans "not to take for granted their precious freedom
to read." As such, Banned Books Week begins tomorrow, and runs through October
2. Since this is an election year, this year's theme is "Elect to Read a Banned
Book."
TLC is joining the commemoration for many reasons, all of which are important enough to tack right here on the front page, in full, for everyone to read without any further clicks.
First, on the ALA's 2003 list, J.K. Rowling's series is, collectively,
the second most challenged book/series. Between 1999 and 2002, it
recieved the largest number of reported challenges.
Even more importantly we, like so many of our readers, believe it's not
only wrong but harmful to censor anyone's literary options. Harry Potter
has enriched all of our lives – we want it to enrich everyone else's, too.
Each year, ALA's Office for Intellectual Freedom (OIF) receives hundreds
of reports on books and other materials that were "challenged."
A challenge is a formal, written complaint filed with a library or school
requesting that materials be removed because of content or level of appropriateness.
In 2003, the OIF received reports of 458 such challenges.
Not all challenges are reported to the OIF, so the actual number is much higher;
the OIF estimates that four or five books are challenged for every challenge
reported – that means in 2003 an estimated 2,500 books were marked for censorship
by "concerned" citizens.
Furthermore, many schools around the country have policies which prohibit
certain books from ever even being considered for the library or in classes.
The first challenge to a Harry Potter book was reported to the OIF in
October of
1999. By the end of 1999, they received more reports of challenges to
the first two Harry Potter books than to any other book that year.
One midwestern librarian who spoke to TLC is unable to have any Harry
Potter books on the shelves of his school library. The school he works
for, in fact, went out of their way to ban the Harry Potter books by
changing their longstanding bookshelf standard policy.
Every year, the ALA prepares a list of the most challenged books for
the previous year, as a guide so everyone, including parents and
students, understand how insidious the practice is and how
unfortunate it is that kids around the country are losing access to
books that millions of other children cherish.
The books, in order of most frequently challenged, are:
The "Alice" series by Phyllis Reynolds Naylor, for sexual content, using
offensive language, and being unsuited to age group.

The "Harry Potter" series, for its inclusion of wizardry and magic.

"Of Mice and Men" by John Steinbeck, for using offensive language.

"Arming America: The Origins of a National Gun Culture" by Michael A. Bellesiles,
for inaccuracy.

"Fallen Angels" by Walter Dean Myers, for racism, sexual content, offensive
language, drugs and violence.

"Go Ask Alice" by Anonymous, for drugs.

"It's Perfectly Normal" by Robie Harris, for homosexuality, nudity, sexual
content and sex education.

"We All Fall Down" by Robert Cormier, for offensive language and sexual content.

"King and King" by Linda de Haan, for homosexuality.

"Bridge to Terabithia" by Katherine Paterson, for offensive language and occult/satanism
Judy Blume – who was recognized last week by the National Book
Foundation for her contributions to American letters – is the
second-most censored author of the past 15 years. Alvin Schwartz, who
writes the Scary Stories series, tops the list. J.K. Rowling is
fourth, but she has published fewer books than either Blume or
Schwartz, and her first book was released in the US in late 1999.
At Nimbus – 2003 last
year, Judith
Krug, director of the OIF,
spoke about censorship and the Harry Potter books. She noted that
"some people believe that just the act of reading Harry will actually
automatically convert readers into witches[, and that another] major
complaint is that the books glorify evil. When this charge is hurled,
I patiently explain that these books are about good and evil."
Ms. Krug said:
"In addition to witchcraft, we've heard complaints that Harry Potter
encourages disrespect for adults and authority, and that the Dursleys are mean.
In one case, the complainant alleged that the novels promote drug use—all those
portions—and we've seen a handful on the grounds that the series promotes Wicca
and, therefore, violates the separation of church and state."
In tandem with Banned Books Week, the ALA has provided a href="http://www.ala.org/ala/pio/piopresskits/bannedbooksweek2004/bbwparenttips.htm"
target="_blank">guide
for parents on issues related to kids and reading, and the
American Booksellers Foundation for Free Expression, who href="http://www.abffe.com/Merchant2/merchant.mv?Screen=CTGY&Store_Code=AS&Category_Code=HP"
target="_blank">joined
us at the TLC/FictionAlley screening of Harry Potter and the
Prisoner of Azkaban at an IMAX theater last June, is highlighting how
bookstores fight
censorship.
The ALA writes:
"Kids and curiosity go together. Sometimes the books that challenge
the minds of children the most are the books that some people feel are inappropriate
for them. Children are thinkers, and they can only grow if we give them the
opportunity to read all types of literature.
While parents are understandably curious and sometimes concerned about what
our child reads, the ALA recommends that if a parent is uncomfortable with a
book assigned in class, they should request an alternative selection. However,
taking action to remove a book from a school or library limits the access of
all the members of the community, not just those who dislike the work.
As Dr Krug said, "removing the book imposes the will of that one parent, or
group of parents, on all the other parents and children in the
community."
You can find a list of the 100 most challenged books href="http://www.ala.org/bbooks/bbwdatabase.html"
target="_blank">here. If you need to report a challenge to a book, you can
visit href="http://www.ala.org/ala/oif/challengesupport/reporting/reportingchallenge.htm"
target="_blank">this page for more information.
We're also making available a 100×100 icon that can be used on LiveJournal
and other message boards and diary sites; feel free to save
it to your computer and use it where appropriate.
And if you hear about anyone taking action to ban one of the Harry Potter
books in the US or elsewhere, please let
us know here at TLC. Together we can try to do something about it.