Paolini Anticipates Potter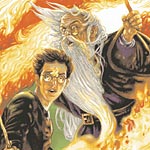 Sep 07, 2004
Uncategorized
Thanks to reader Katie, who sent us this late-July Comic Con interview taken by and up at fan site "Shur'tugal" (I hope I did that right) with young Eragon author Christopher Paolini, in which the 20-year-old scribe speaks of his love for Potter:
Kari: Have you read the Harry Potter books? If so, what's your opinion on them?

Chris: I read the Harry Potter books after I wrote Eragon. I actually did not read them until the fourth book came out. I didn't even know about them. I wasn't in a regular school so I never even heard of them until the fourth one came out. I read the first one, I really enjoyed it. And I have enjoyed the rest of the series. I think it's really good because JK Rowling is in a great deal to get attention for young adult literature and to encourage others to read and write. So I'm a big fan of them. She better finish them up soon. I'm waiting for the next book!
Additionally, I had the pleasure of meeting Mr. Paolini at a conference this week, and can report there's no spin in that report; the very polite and energetic writer speaks of the HP series with passion.