Cinesite Feature on F/X for PoA Film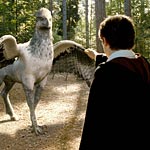 Sep 09, 2004
Uncategorized
Cinesite, a company which does visual effects for films, has this feature on their website about the work they did for Harry Potter and the Prisoner of Azkaban.
"The huge 1/24 scale model of the Hogwarts exterior was expanded by around 40%. Under the Production Design of Stuart Craig and Model Unit Art Direction of Gary Tomkins Hogwarts evolved, with new features including a clock tower, clock tower courtyard, the "Rickety Wooden Bridge", hospital wing and new spires for the Durham section of the main Hogwarts building. Minute detail on the existing models was also improved, including retexturing the roof of the main building. The newly landscaped version of Hogwarts was filmed in some sequences while it was wet, which particularly enhanced colour saturation and gave more definition and contrast."
Cinesite is at work on the upcoming Goblet of Fire film. Thanks Craig!