Entertainment Weekly Preview on Goblet of Fire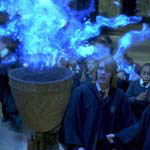 Jan 14, 2005
Uncategorized
Entertainment Weekly has their new 2005 preview issue out. In the magazine there is a short preview of the upcoming Harry Potter and the Goblet of Fire film, due to be released on November 18th. Says the magazine:
"He's faced giant snakes, ghastly Dementors, and the minions of the villainous Lord Voldemort. But teen love? Now there's a menace worthy of Harry
Potter's mighty wand. "Hormones are indeed raging. It's like The O.C. here,"
reports producer David Heyman from the set of Warner Bros.' fourth Potter film.
Both Harry (Daniel Radcliffe) and pal Ron (Rupert Grint) start seeing the
opposite sex in new ways. The plot has Harry in a tournament against other
wizarding schools–our first real glimpse of the magical world outside
Hogwarts–and bad things are happening, leading to the return of He Who Must Not Be Named (a.k.a. Voldemort, played by Ralph Fiennes). Succeeding Chris Columbus and Alfonso Cuaron as director is Mike Newell–and before you start saying What the bloody hell is the man who madeFour Weddings and a Funeral doing here?, remember: He made the well-regarded (if little-seen) kid adventure Into the West and the tense Donnie Brasco. "And he's British. We thought it'd be fun to try that for once," quips Heyman. Fans can also anticipate fire-breathing dragons, an underwater rescue, and a killer hedge maze–and we mean killer. "It's fantastic," raves 15-year-old Radcliffe. "I can't wait to get the videogame for this one."
Also, the magazine has a very brief preview of books to be released this year, noting the new Potter book due out this summer.
"Books of 2005, bow before your master: Harry Potter and the Half-Blood
Prince, due July 16, will be the best-selling tome of the year."
The January 21st issue of Entertainment Weekly is on sale now.