New Interview with Jamie Waylett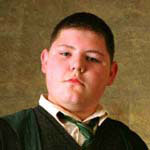 Jan 15, 2005
Uncategorized
Australian Potter site Harry Potter Fan Zone has a new interview with actor Jamie Waylett (Crabbe). In the interview Jamie talks about what it's like to work with new Goblet of Fire director Mike Newell, and has this tidbit of information about the upcoming film.
HPFZ: So Jamie, what's the deal? Could you enlighten us about the condition of Franz Ferdinand and their role, if any, in the new movie?

JW: There is a lot of news on websites [including the Harry Potter Fan Zone] about them being in "the Weird Sisters" [during the Yule Ball sequence]. However, all I can say is at the Yule ball, there is a band playing music while we dance, but it's not them! I did hear they are doing two tracks for the soundtrack, but who knows?
To read the entire interview click here. Thanks Andy!